Products
Most people think of wood floors as a couple of choices; but the fact is, there are literally hundreds of options!   Each floor has unique look and purpose and at Floors of Distinction, we are experts at helping our clients select the right wood floor, offer the highest quality products, and provide top-notch installation.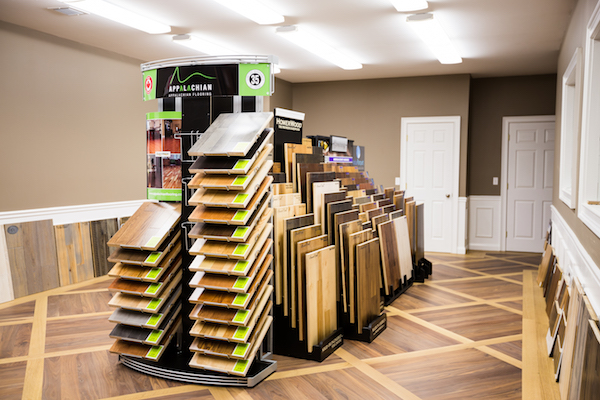 Selecting the Right Product
We offer pre-finished or unfinished wood flooring in plain-sawn, quarter-sawn or rift-sawn varieties.  This refers to the cut of the wood which affects the overall look of each piece; lots of variety and texture, versus a more even look from board to board.  We offer dark wood floors like a black walnut, or light wood floors like a maple or hickory.   Then there is a wide variety of board widths and thicknesses available as well as engineered versus solid options.  Different species of woods provide a different look, color scale, and durability which is why we recommend talking to us about your lifestyle as well as your desired look/feel you are going for so that we can help you make all the right selections for your desired look and functionality.
Stain
Staining a floor requires the sanding to be at a much higher finishing level. There are many options for style and color when it comes to staining your hardwood. We also take an extra step, called water popping.  Water popping produces a very even, rich color.  This process may add a day or 2 to the whole project, but when done correctly looks amazing and is well worth the wait!
Dyes
Sometimes stains cannot achieve a dark enough or light enough color, or maybe a background color to the stain is desired.  We use dyes to achieve this look.   This is how we can get gray colors, white-wash colors or even black floors.   Styles change and we are always changing with the times to give our customers the look they are trying to achieve.
Sports Floors
New wood sports floors for every situation. gyms/aerobic studios/dance floors.
Refinishing existing sports floors/ game line painting and logos.
Screen and re-coating- today's high traffic sports floors should be re-coated annually.